Improve Supply Chain Accessibility | Database Creation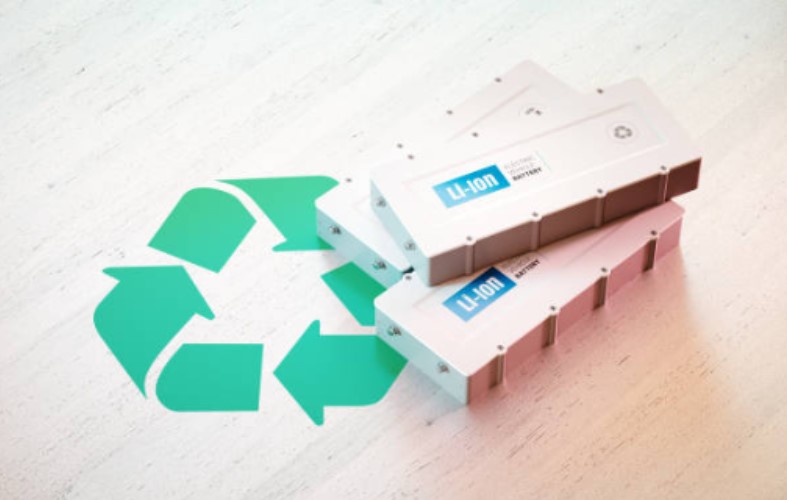 US President Joe Biden has set a goal of a 50% reduction in greenhouse gases by 2030, and efforts to develop cleantech renewable energy alternatives mean growth opportunities in the manufacturing sector. New York State is poised to be a big player in this growing industry, providing manufacturers a chance to get into this growing market. Upstate New York, specifically the Southern Tier, has been dubbed the 'tech corridor' in the emerging cleantech sector with both lithium-ion battery and semiconductor manufacturers opening production facilities.
Manufacturers in the WNY area are uniquely positioned to capitalize on current and future supply chain needs, due to the rapid growth of clean energy initiatives. These initiatives create opportunities for regional manufacturers to become suppliers for high-tech manufacturing and other advanced manufacturing. With access to resources and new technology, companies can take advantage of the demand for green energy products and services. In addition, manufacturers can leverage their existing relationships with potential buyers to negotiate better terms and conditions for supply chain management.
By pivoting their operations, manufacturers will not only remain competitive but also will help the state and federal government's goals of reducing greenhouse gases. By investing in both streamlined processes and new technologies that will help improve elements of supply chain sustainability, companies should experience positive dividends in the near future. Furthermore, connecting with other clean technology hubs throughout New York State could provide increased access to resources that can help further expand operations and increase profits.
With environmental regulations becoming increasingly strict, having a well-planned approach to supply chain sustainability is essential for any business looking to stay competitive and make an impact on climate goals. WNY manufacturers have a unique chance to capitalize on these trends by adjusting business practices to optimize their place in the circular economy and as suppliers for the booming cleantech sector.
Collaboration Leads to Potential Market Growth
In light of the need for a reliable supply chain to help support projected growth in renewable energy sources, a new Battery and Energy Storage Supply Chain Database has been developed as a collaborative effort through the New York Energy New York (NENY) Supply Chain Program, led by the New York Battery and Energy Storage Technology Consortium (NY-BEST). The Alliance for Manufacturing Technology (AMT) and Binghamton University were also partners in the database creation process.
The new database, which manufacturers can register on and utilize at no cost, includes both product categories and service categories, providing optimal connection opportunities for manufacturers, suppliers, and service providers in component manufacturing and for custom parts manufacturing opportunities.
Companies based in New York State that produce, distribute, or offer services related to batteries and energy storage, as well as industrial machinery manufacturing and cleantech opportunities, are encouraged to register in the database. This improves their chances of finding business partners looking to solidify a sustainable supply chain and increase sustainability efforts.
It should be noted that the Battery and Energy Storage Supply Chain Database, hosted by New Energy New York (NENY) and NY-BEST has been updated. It replaced an earlier version of the NY-BEST Supply Chain Database. Any company wishing to be featured in the new database must register, even if they had an entry in the old NY-BEST Supply Chain Database.
Battery and Energy Supply Chain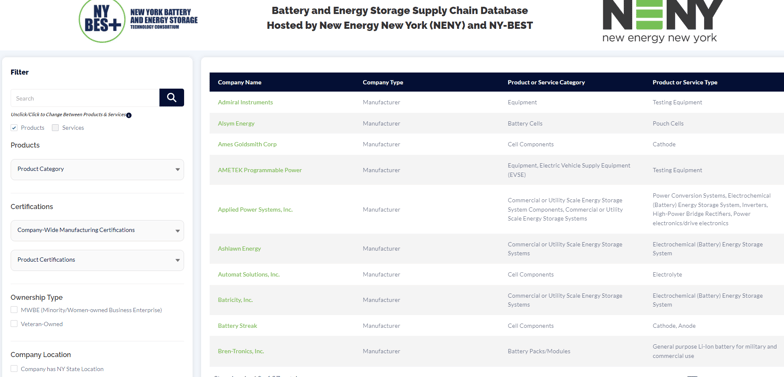 Product and service categories are clearly outlined on the linked pdf on the supply chain database website.
The NENY Supply Chain Team is also available via email to provide assistance as needed.
New Business Requiring Suppliers: Electrovaya
The Lithium-ion battery manufacturing industry is a rapidly growing market segment, with projections to grow by 30% or more annually through 2030, reaching a value of $400 billion, according to a 2022 McKinsey analysis. In recent years, the increasing demand for energy storage solutions and electric vehicles has driven the industry's significant growth.
Lithium-ion batteries offer high energy density and greater power output than traditional lead acid batteries, which make them ideal for a variety of applications such as consumer electronics and electric vehicles. The growing demand for cleaner transportation solutions also has spurred increased investment in research and development in this sector.

One prime example of opportunity coming to Western New York is Electrovaya, a Canadian-based company. Electrovaya, which already reports 90% of its sales occur within the US market, is slated to create a "gigafactory" in WNY. This will allow them to take advantage of market opportunities emerging as a result of the federal Inflation Reduction Act (IRA) that requires components for EVs and a variety of other products to be made in the US.
Electrovaya will need suppliers that are nearby to help facilitate shorter lead times in a demanding market. A presence on the database means manufacturers won't miss out on opportunities like this.
Next Steps for the Clean Energy Pivot
Retool WNY offers resources for companies looking to become part of the supply chain for both cleantech and climate tech manufacturing. There are opportunities and advantages for established WNY businesses and also those looking to relocate or expand to the area.
Small and medium manufacturers in the area can discuss funding opportunities for studies and equipment purchases for climate tech manufacturing by reaching out to Jamestown BPU.