Women in Manufacturing | Retool'23 Conference Speakers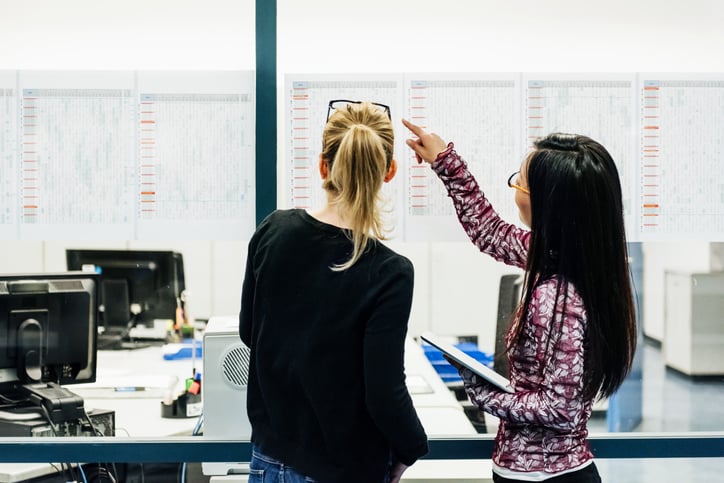 Manufacturing employs one in ten workers in the United States but fewer than a third of workers are women. Women are particularly underrepresented in many higher-earning shop floor positions that typically do not require a four-year college degree.
The 2022 Institute for Women's Policy Research Women in Manufacturing Survey discusses what factors help and hinder women's access to and advancement in manufacturing, including:
Awareness of career opportunities available in manufacturing
Access to employment
Training and skills development
Availability of respectful working environments
The intersection with caregiving responsibilities.
The report highlights changes that are required to help the manufacturing industry build and sustain a skilled workforce that reflects the population of the 21st century.
While manufacturing jobs in New York State represent about 4% of the total workforce, in Western New York and specifically Chautauqua County, manufacturing jobs make up almost 20% of the economy, and women make up more than 50% of the population. However, women represent less than one-third of manufacturing employees.
There are initiatives underway to encourage youth to pursue manufacturing careers, particularly with the growing integration of technology in that area. But there is still a gap in the number of young women pursuing manufacturing jobs.
Retool '23 is proud to showcase four inspiring females from manufacturing, climate technology, and workforce development careers. These innovative minds are involved in advancements in various areas of the manufacturing sector, including innovative workforce training and recruitment, as well as in finding resolutions for problems that are considered barriers to successful business decisions.
Nuclear Engineering
Nuclear Engineering is currently 3.65% of the U.S. workforce - and it is growing. The median wage is $115,000. The average employee age is 43.1 and declining slightly (0.39%).
However, while the field itself is growing, the career path is still male-dominated. Women make up only 17.2% of the nuclear engineering graduates in the U.S., according to data gathered from the five universities that graduate the most students with nuclear engineering degrees.
Lecture Speaker: Leslie Dewan
Leslie Dewan is a remarkable leader and innovator. She has been at the forefront of nuclear engineering, developing revolutionary radiation detectors that are applicable to numerous industries.
She has been recognized as an "Innovator Under 35" by the MIT Tech Review and as one of "30 People Under 30 Changing the World" by Time magazine.
Her company, RadiantNano, is developing next-generation radiation detectors. These detectors are on track to be useful in various sectors, including:
National security
Clean energy production
Medical diagnostics
With her knowledge, she is certain to provide an insightful lecture during the morning session that will benefit all attendees!
Climate Change
Females are very underrepresented in the research world. In fact, a study in 2019 determined that only 32.7% of researchers in North America and Western Europe were female. Even in this decade, women continue to face significant barriers in scientific research, including less success in winning grant funding and a work-life imbalance, only exacerbated by workplace stress.
Female researchers also are less likely to see academic work published. From 2017-2022, of the top 100 scientific papers published, less than half had women authors listed - and only 12 papers authored in the scientific field had female leads.

Moderator: Abigail McHugh-Grifa
Abigail McHugh-Grifa is the Executive Director of the Climate Solutions Accelerator of the Genesee-Finger Lakes Region, which focuses on large-scale climate mobilization. The organization spans nine counties in the Finger Lakes Region.
The Climate Solutions Accelerator is focused on:
Building citizen engagement and advocacy

Developing a robust and impactful local climate movement

Facilitating collaboration among organizations that are working to address climate change.
The Accelerator launched a campaign in 2021 called "AMPED: Go All Electric," which supports the transition of organizations' vehicles and buildings to technologies powered by carbon-free electricity, and assists with finding available incentives to reduce the costs of the transition.
McHugh-Grifa also serves on New York State's Climate Justice Working Group. She holds a Ph.D. in Music Education but decided to give up her career in music to dedicate herself to climate work, out of concern for the future of her two sons.
---
---
Workforce Development
The manufacturing sector is still struggling to recover from the significant drop in the workforce during the coronavirus epidemic and the "Great Resignation" that followed the U.S. movement to return to work.
From 2018-2023, manufacturing employment in the U.S. has declined 1.4%. The average business in the U.S. employs more workers than it did five years ago, yet revenue per employee has decreased.

Panel Speaker: Elizabeth Callahan
Elizabeth Callahan is the Director of External Relations and Special Projects for Buffalo Manufacturing Works/EWI. She will be participating as one of the panel speakers during the afternoon discussion on "Going Green: Growing Our Workforce" at Smith-Wilkes Hall.
Callahan is experienced in working with both the public and private sectors to develop programs that are innovative and help companies build capacity. Her efforts at Buffalo Manufacturing Works include the creation of programs to educate and implement these strategies for small to midsize manufacturers in Western New York.
Panel Speaker: Carolyn Storms-Stoltman, Ph.D.
Dr. Carolyn Storms-Stoltman is the Vice-President of Enrollment & Organizational Advancement for Northland Workforce Training Center. She will also be one of the panel speakers during the afternoon discussion on "Going Green: Growing Our Workforce."
Northland Workforce Training Center (NWTC) is New York State's signature workforce initiative. Located on the east side of Buffalo, the Center is focused on advancing the economic well-being of WNY and creating paths for workers seeking high-paying advanced manufacturing and energy careers. A secondary benefit is creating and maintaining a skilled and diverse workforce in the area.
The industry-driven, public-private partnership includes employers, educational institutions, community and faith-based organizations, and state and local governments.
At Retool WNY, we encourage you to keep this conversation going.
Contact us today. We're prepared to share the resources and knowledge we are gaining from our partners daily, ranging from supply chain opportunities to climate and cleantech New York State incentives.