Retool '23: Experience the Conference and Some of What Chautauqua County Has to Offer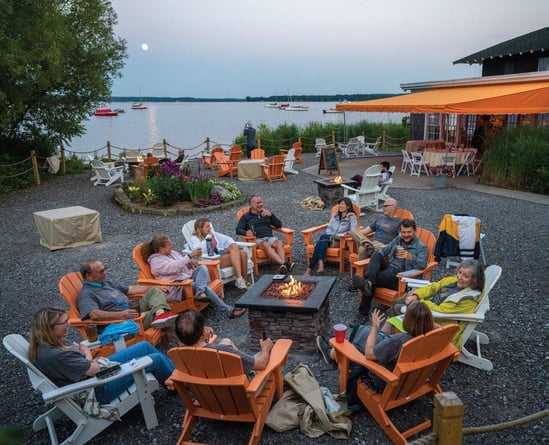 Come for a day to learn more about climate and clean tech manufacturing and regional workforce development … Stay for a week of fun.
Retool '23 will be held July 26, 2023 at Chautauqua Institution. The conference and networking event will focus on the workforce dynamic and future opportunities related to New York's emerging green economy.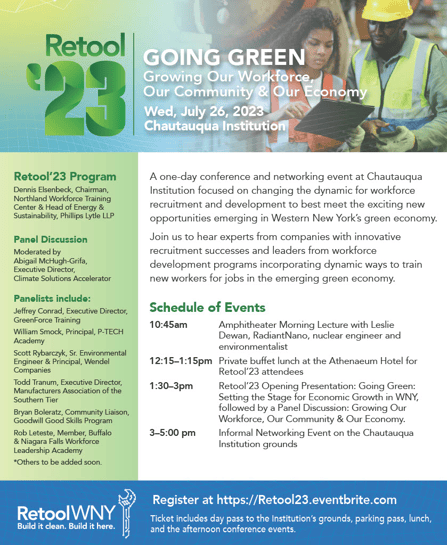 The morning lecture will feature Leslie Dewan, CEO, of RadiantNano, as she discusses her work in improving nuclear reactor designs and the potential of nuclear energy for the future.
Dewan was named a National Geographic Emerging Explorer and was recognized by TIME Magazine as one of "30 People Under 30 Changing the World." She has degrees in mechanical and nuclear engineering and a Ph.D. in nuclear engineering as well.
The rest of the day will include a full buffet lunch, followed by a presentation and panel discussion on economic growth in Western NY, with a focus on growing the workforce for climate and clean tech manufacturing.
The day will round out with an informal networking event where attendees can mingle and enjoy the beauty of Chautauqua Lake and the Institution's grounds.
---
Did You Know?
WNY is a popular place to live these days. According to U.S. News & World Reports' "Best Places to Live List," Buffalo is No. 27 out of 150 ranked cities. Meanwhile, Rochester is No. 26, Syracuse No. 22, and Albany is No. 17.
---
Save Time for a Look Around
Once the conference is over, take the opportunity to stay for a taste of what Chautauqua County has to offer.
Find the right place to stay by visiting
https://www.chq.org/discover/accommodations/ for an idea of the nearby options, and check out the wide variety of entertainment that the area offers.
Events at Chautauqua Institution:
Summer at Chautauqua Institution brings a full slate of entertainment options.
If you plan on staying in the area and arrive on Tuesday, you can enjoy a new, humorous interpretation of Pride and Prejudice, retold by contemporary playwright Kate Hamill and directed by CTC Producing Artistic Director Jade King Carroll. If you miss it Tuesday, you can always drop in for the performance Thursday afternoon.
Or, if music is more your style, you can opt to listen to the Chautauqua Symphony Orchestra either Tuesday evening or Thursday evening. Wednesday evening will feature both the Opera Conservatory Student Recital and three-time Grammy Award winner Cécile McLorin Salvant, a jazz singer, composer, and visual artist. This performance will be part of the summer Amphitheater concert series. Check out Chautauqua Institution's packed event schedule for details.
Take a Tour in Style:
The Chautauqua Belle invites you to enjoy beautiful views on Chautauqua Lake and a full-service on-board bar during a cruise. The steamboat offers lunch cruises, evening cocktail cruises, dinner cruises, and private charters. Passengers can opt for either the dock at Chautauqua Institution if they are guests there or the dock at Lakeside Park/ Steamboat Village (78 Water St.) in Mayville. Depending on the day's winds, the tour takes between one hour and 30 minutes and one hour and 45 minutes. The Chautauqua Belle offers tours from late June through September. Weather delays and cancellations are possible.
For a Night at the Ballpark:
The Jamestown Tarp Skunks, who play in the Perfect Game Collegiate Baseball League, have two home games scheduled for the week of the conference:
July 26 - The Skunks host the Geneva Redwings at 6:30 p.m.
July 28 - The Skunks host Niagara Power on Fan Appreciation Night. The game starts at 6:30 p.m.
Art and the Outdoors:
The Roger Tory Peterson Institute (RTPI) has a featured exhibit titled "Art that Matters to the Planet 2023: Interconnectivity." The exhibit uses the connectivity of trees as an analogy for strong communities and their reliance on interconnected relationships. RTPI is open from 10 a.m. to 4 p.m. Wednesday through Saturday and from 1 to 5 p.m. Sunday. Monday and Tuesday visits can be arranged via appointment.
For those who enjoy the outdoors and birdwatching, RTPI offers wildflower gardens, bird feeders, and a bluebird trail. Two half-mile trails provide the opportunity to see birds and bees close up and learn about nature through QR code signposts and sculptures along the trails.
All About Boats
The Lawson Center (TLC), located in Bemus Point, is an interactive museum with antique and classic boats, lots of photos and history of the steamboats on Chautauqua Lake, and hands-on kids' exhibits.
County Events While You're Here:
Our Chautauqua County Visitors Bureau has a great calendar of events and a link to accommodations available in the county as well.
On July 26:
The Village of Fredonia Summer Concert Series will be held from 6:30 to 8:30 p.m. at Barker Commons.
On July 27:
The Science of Things Spiritual Symposium begins at Lily Dale. It will run through July 29.
Summer Block Party with Uncle Ben's Remedy will be held on East Third Street in Jamestown in front of the Reg Lenna Center for the Arts.
On July 28:
The Grape Belt Open Golf Tournament will be held in Westfield.
The Wild America Nature Festival will be held at Panama Rocks Scenic Park (

PR

).
The 51st annual YWCA Arts & Crafts Festival will take place in Westfield. Highlights will include a number of artisans with original art, jewelry, children's toys, gourmet food, metal sculptures, clothing, and more, as well as a variety of food trucks. The festival will be open from 9 a.m. to 6 p.m. Friday and 9 a.m. to 5 p.m. on Saturday, July 29.
DJ Keron provides music at the Bemus Point Village Casino for an evening of food, fun and relaxation.
For the Wine Connoisseur:
The Lake Erie Wine Trail offers a self-guided tour of its 20-member wineries on a 50-mile stretch of Lake Erie shoreline from Silver Creek, NY to Harbor Creek, PA.
Special reservations one to two days in advance are required for parties of 8 or more.
For those Seeking Entertainment and a Beer:
The area is home to several craft breweries. Both Southern Tier and Big Inlet Brewing offer musical entertainment for those who want to stay for a while.
The Empty Pint is the taproom at Southern Tier's state-of-the-art brewery in Lakewood, New York. Fresh beer and tours are available, and an outdoor beer garden is open during the warmer months. They also offer musical entertainment, including their Fourth Friday Summer Music Series (5 to 8 p.m.).
Big Inlet Brewing is open Thursday through Sunday if you're staying for the weekend. On July 28, Kallie Williams will be performing (start time at 6 p.m.); On July 29, Brianna Blankenship will take the stage (start time 6 p.m.), and if you're still here on Sunday at 2 p.m., you can enjoy Bill Ward's Sunday Session.
The Bemus Point Golf Club & Tap House has live music on weekends during the summer season and a great selection of food and beverages every day of the week. Locally brewed craft beers are featured in the Tap House with outside dining available.